Limited Express Rapi:t
Rapi:t is an Airport Express that connects Osaka, Namba and Kansai International Airport
Features of Limited Express Rapi:t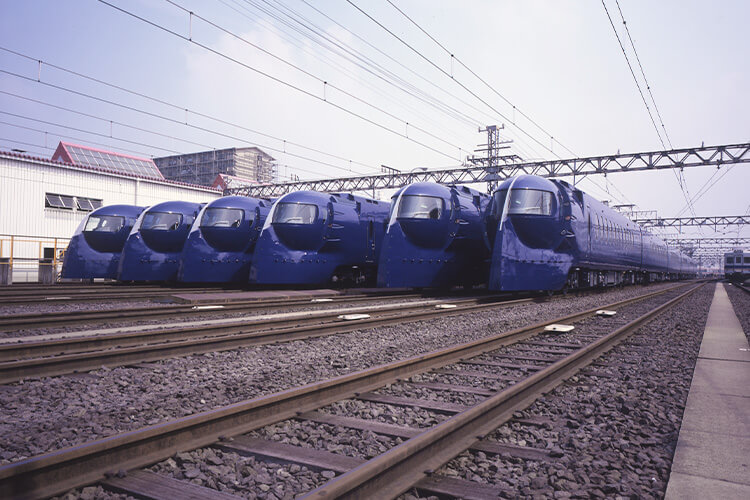 "Rapi:t" is a German word meaning "fast".
The name matches the speed of the Airport Limited Express which connects central Namba and Kansai International Airport in the shortest time.
The name, which is exhilarating and approachable, was selected from among 32,000 submissions from the public.
Vehicle Design
Spacious interior space with a powerful
Rapi:t means fast in German.
The Limited Express Rapi:t was designed based on the concept of 'retro-future', combining power and speed in the design of the 'head' of the train with sleek curves as well as the circular window design inspired by those on an airplane.
With a maximum speed of 120km / h and a minimum time of 34 minutes, it connects Kansai-Airport Station and Nankai Namba Station.
It is a state-of-the-art railway access with sufficient design as an urban landscape, suitable for the international city of Namba.

In addition, the beautiful form also envelops the spacious interior space.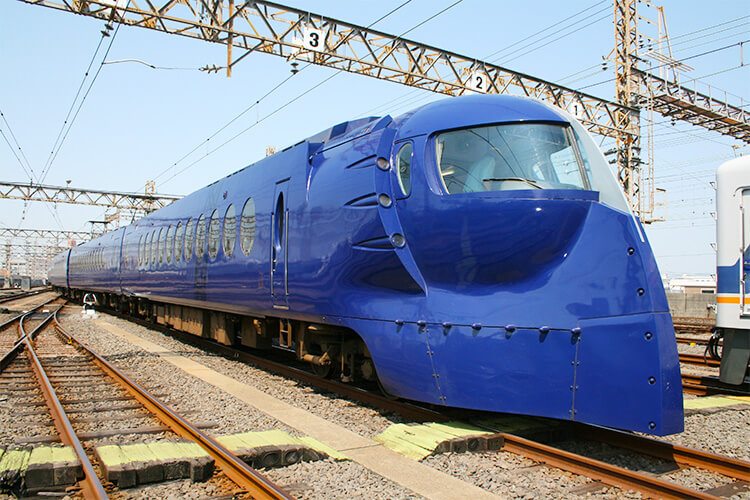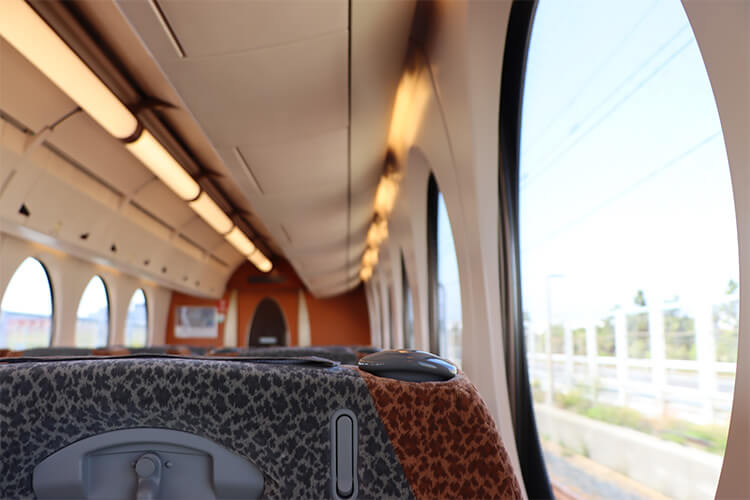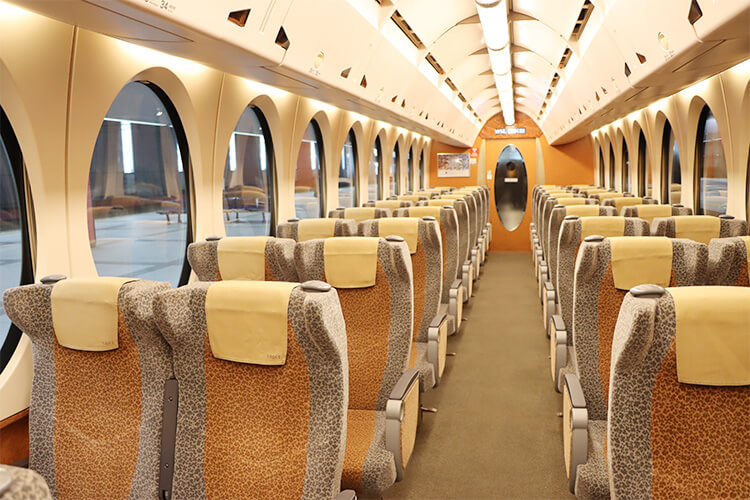 Executive Super Seat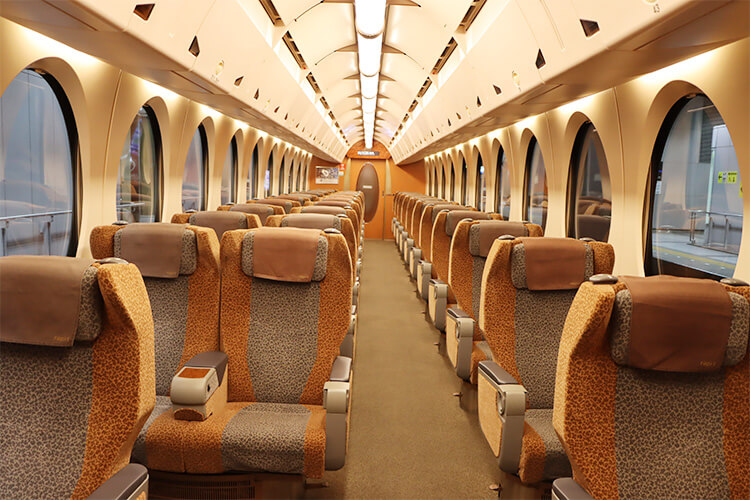 54 of the 252 seats on the Airport Limited Express Rapi:t are Super Seats.
Super Seat cars have 3 rows of seats with a seat pitch of 1200mm and a seat width of 485mm per person.
This spacious layout creates an executive journey and fills you with a rich feeling on your way to the airport.
The 4-row regular seats have a seat pitch of 1030mm and a seat width of 460mm.
Train facilities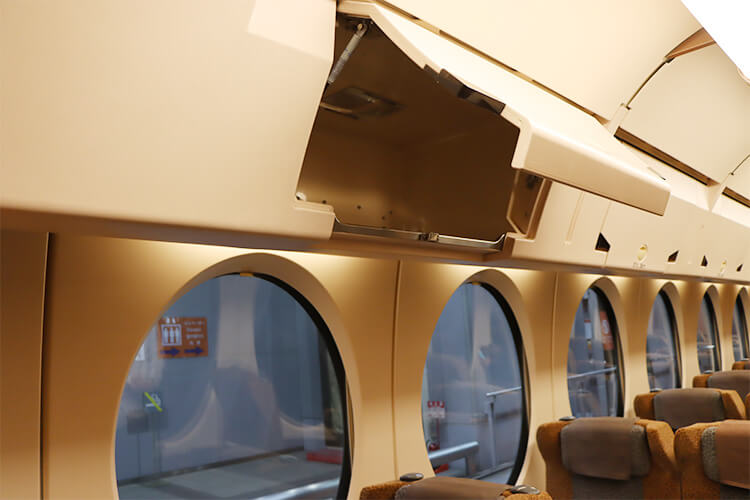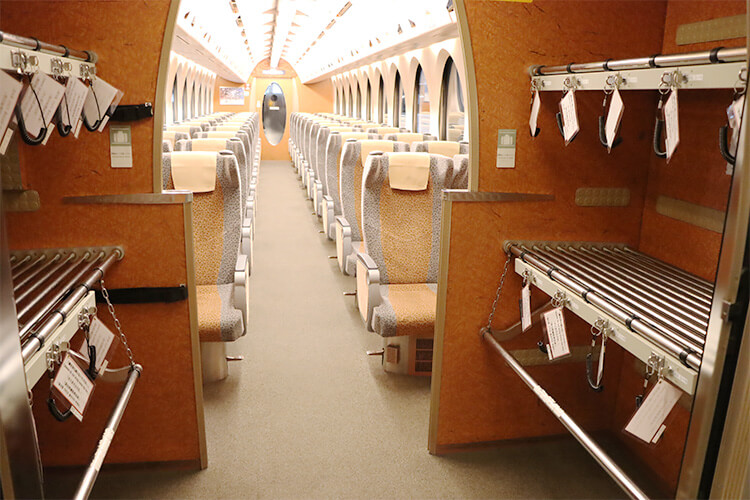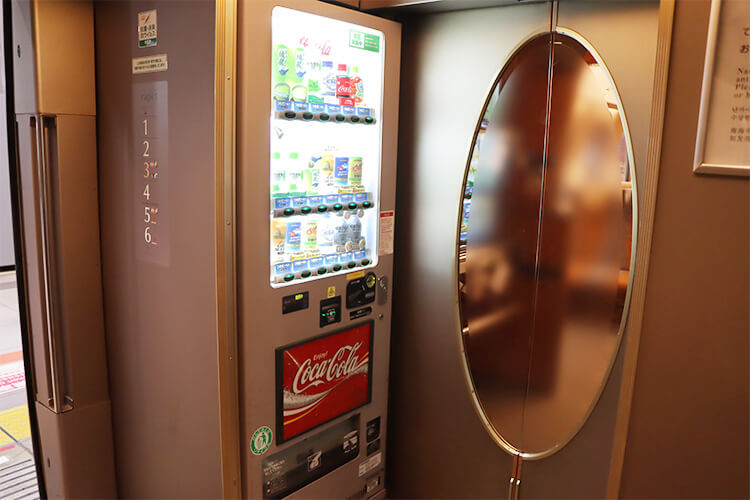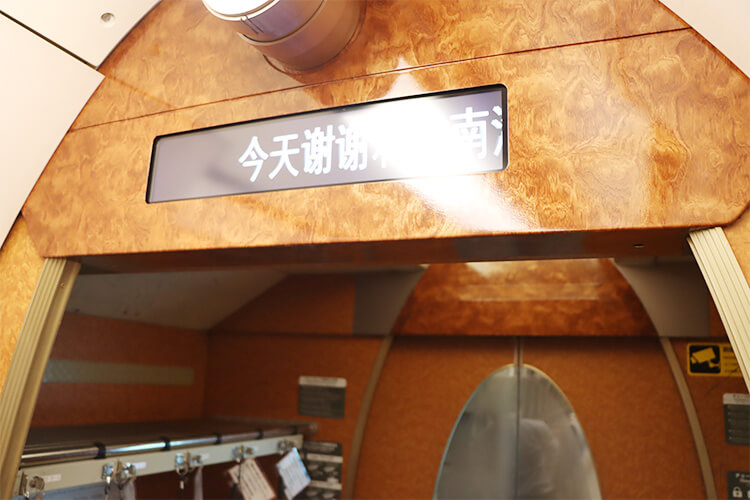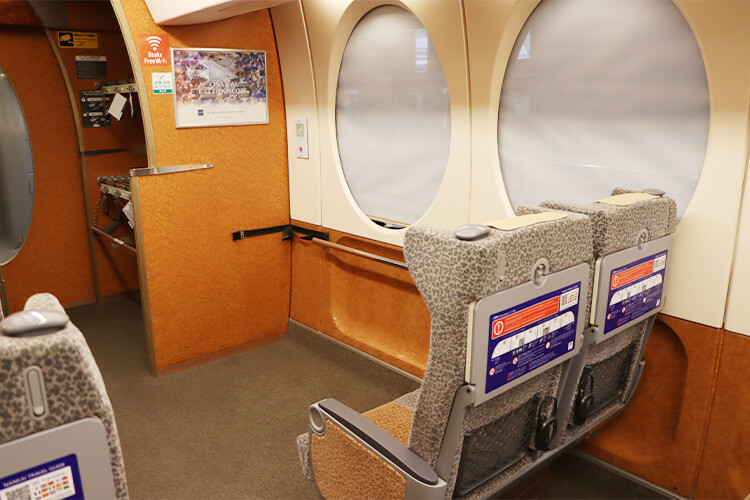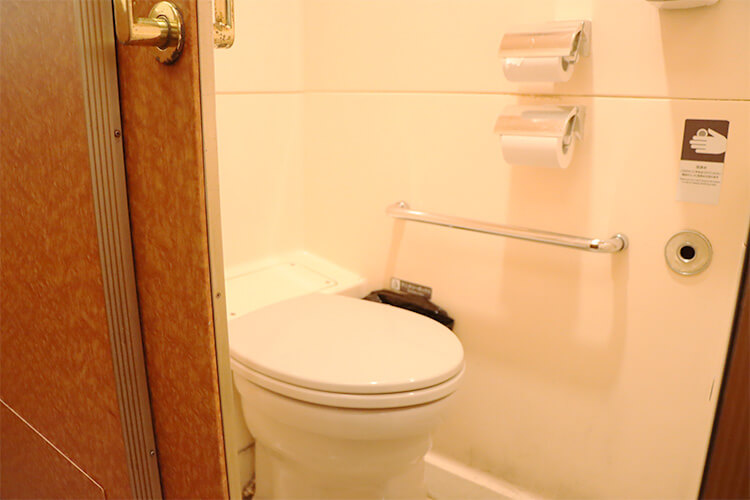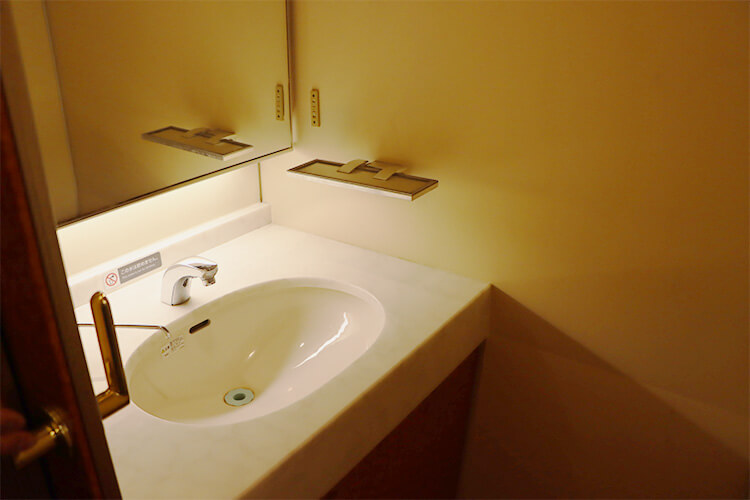 Running Area
Nankai Line
Namba to Kansai-Airport
Search in the time table
Train Stops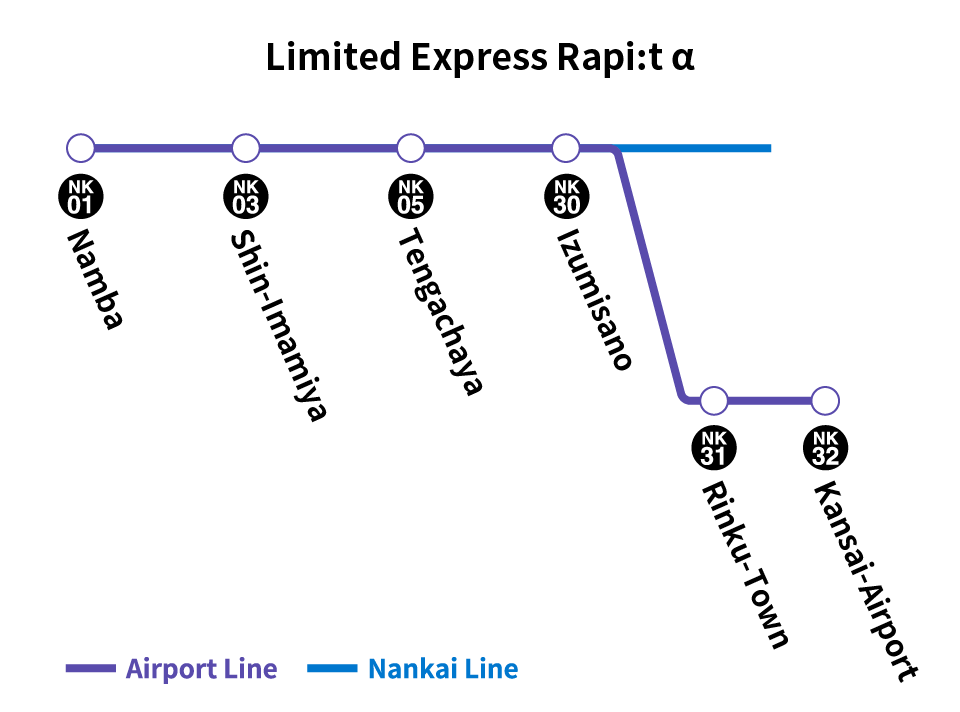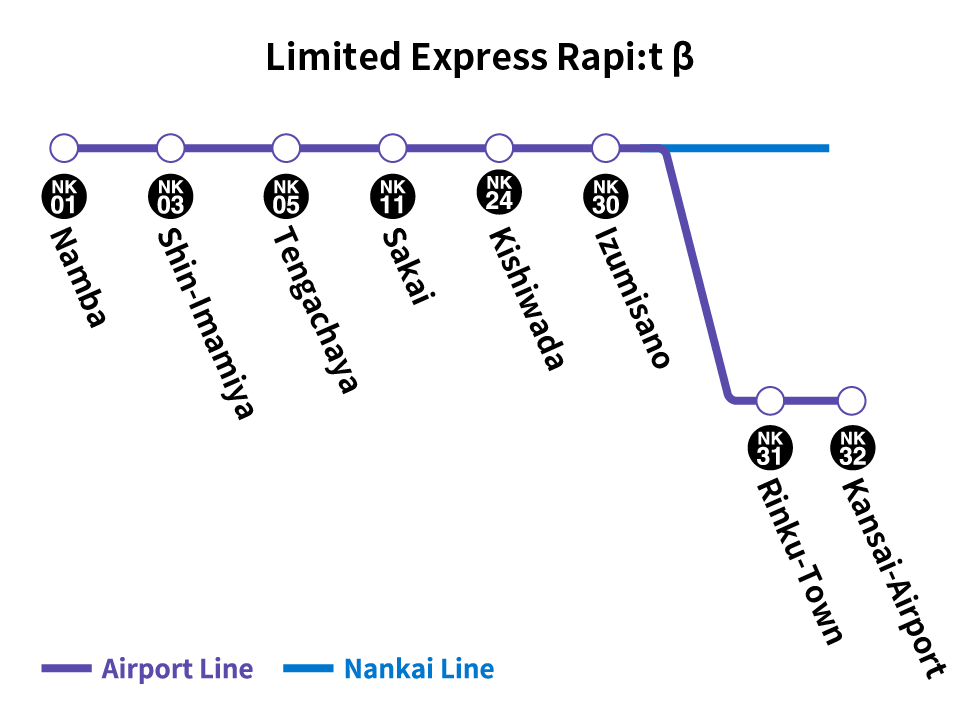 Price
Regular Seat
| Zone | Adult Fee | Child Fee |
| --- | --- | --- |
| Areas other than written bellow | 520JPY | 260JPY |
| Izumisano to Kansai-Airport | 100JPY | 50JPY |
Super Seat
| Zone | Adult Fee | Child Fee |
| --- | --- | --- |
| All areas | 730JPY | 470JPY |
*

Regular seats are available for 100 JPY (Child 50 JPY) from Izumisano to Kansai-Airport.
Purchasing Limited Express tickets

Purchasing Online
Nankai Reservation for Limited Express
We are currently running a campaign that you can get on the super seat at the price of the regular seat!
Check below for details.
*

"Nankai Reservation for Limited Express" members only!
1.

Easy and convenient! Purchase with your smartphone!

2.

Assign a seat anytime, anywhere!

3.

Smooth boarding without tickets!
Purchasing at the Ticket Counter
You may purchace tickets at Namba Station, limited express ticket counters, pink ticket vending machines at major stations, limited express ticket vending machines installed on platforms, and major travel agencies nationwide.
*

Tickets will be on sale from one month ago.

*

If there are vacant seats on the day you wish to ride the Limited Express, you can also purchase limited express tickets from vending machines.
Limited Express 50000

*Smoking is prohibited in all cars.

CAR 1

CAR 2

CAR 3

CAR 4

CAR 5 *SUPER SEAT

CAR 6 *SUPER SEAT