Semboku Liner
Semboku Liner is a Limited Express that connects Osaka, Namba and Semboku New Town.
Features of Semboku Liner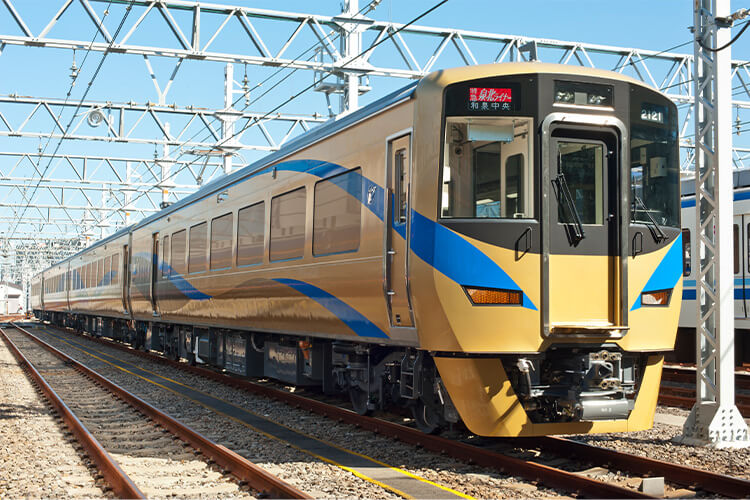 Semboku Liner, which began to operate from 2015, connects Namba and Izumi-Chuo in 29 minutes at the earlies , delivering a comfortable and high-quality space and time.
Vehicle Design (12000)
The basic color of Semboku Liner is gold, and blue and black lines are applied making the exterior gorgeous like no other. On the other hand, the interior has a calm tone so that customers can relax.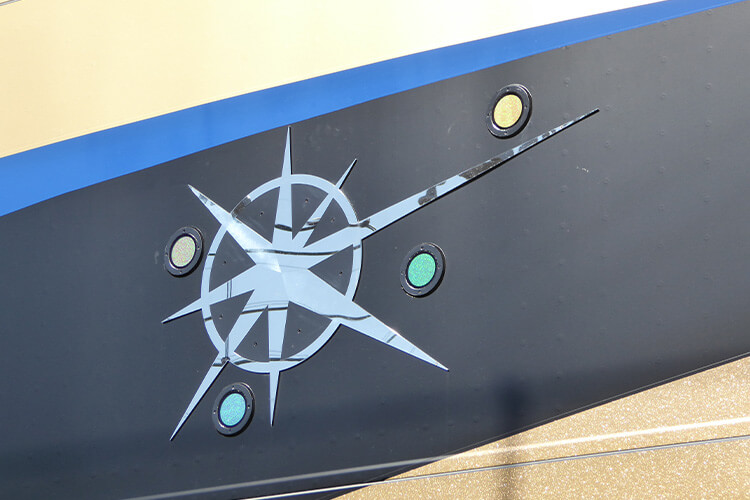 In the symbol mark, the center star represents "newness", and the surrounding four circles represent "the four areas of the new town (Izumigaoka, Toga-Mikita, Komyoike, and Trois verts Izumi)".
* Kyoto Opal is a registered trademark of Kyocera Corporation, and is a generic name for synthetic opals such as colored opals that the company develops as decorative materials.
Main Features of Semboku Liner (12000)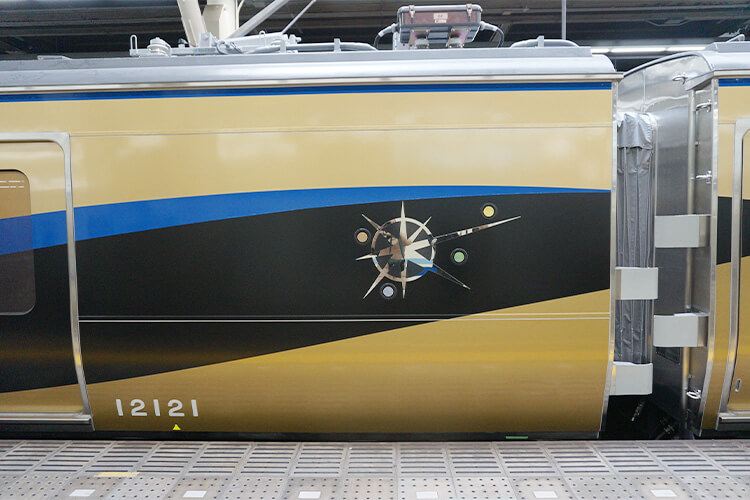 Exterior Design
The symbol mark of the Semboku Liner is placed on the side of the vehicle body of the head vehicle bound to Izumi-Chuo.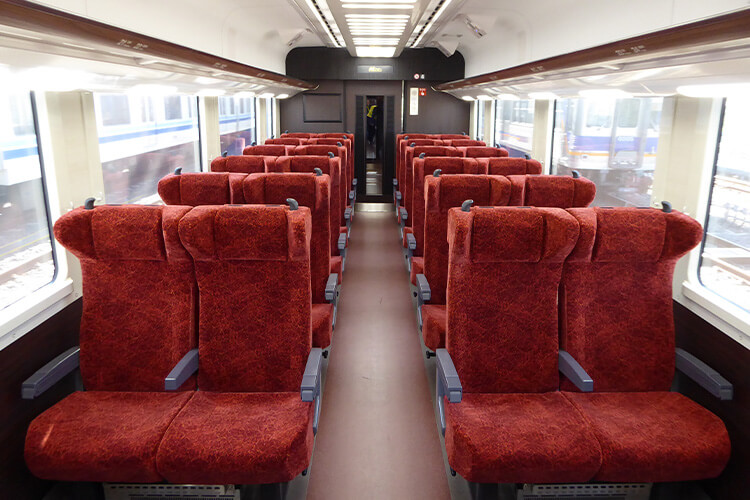 Interior Design
Dark wood grain is used to create a calm and relaxing interior.
In addition, the color of the seat is the same color as the four circles of the symbol mark for each vehicle.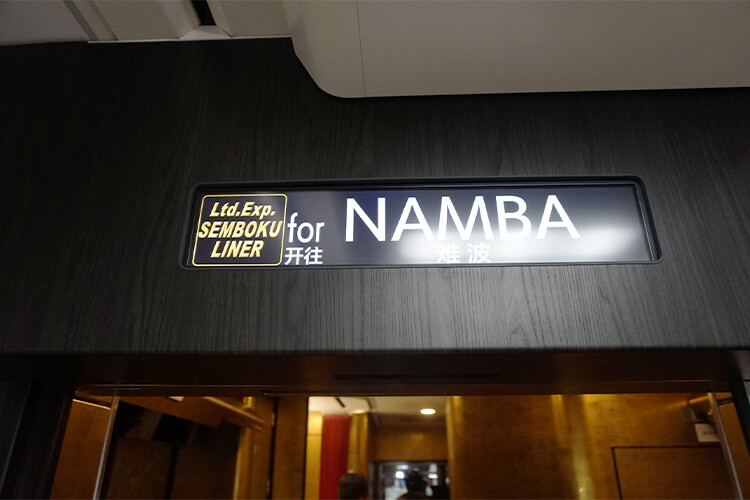 Promotion of barrier-free facilities and consideration for the environment
A liquid crystal in-vehicle guidance display is adopted, and a variety of information guidance is provided using notations and images in four languages.
In addition, LEDs are used for all lighting fixtures, including interior lighting and headlights, to further reduce power consumption.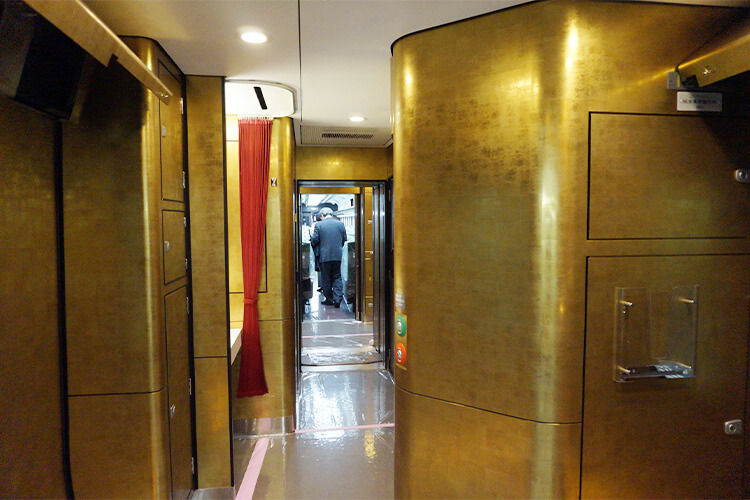 Special Entrance
The deck is a golden space with specifications that makes you feel extraordinary.
Running Area
Search in the time table
Train Stops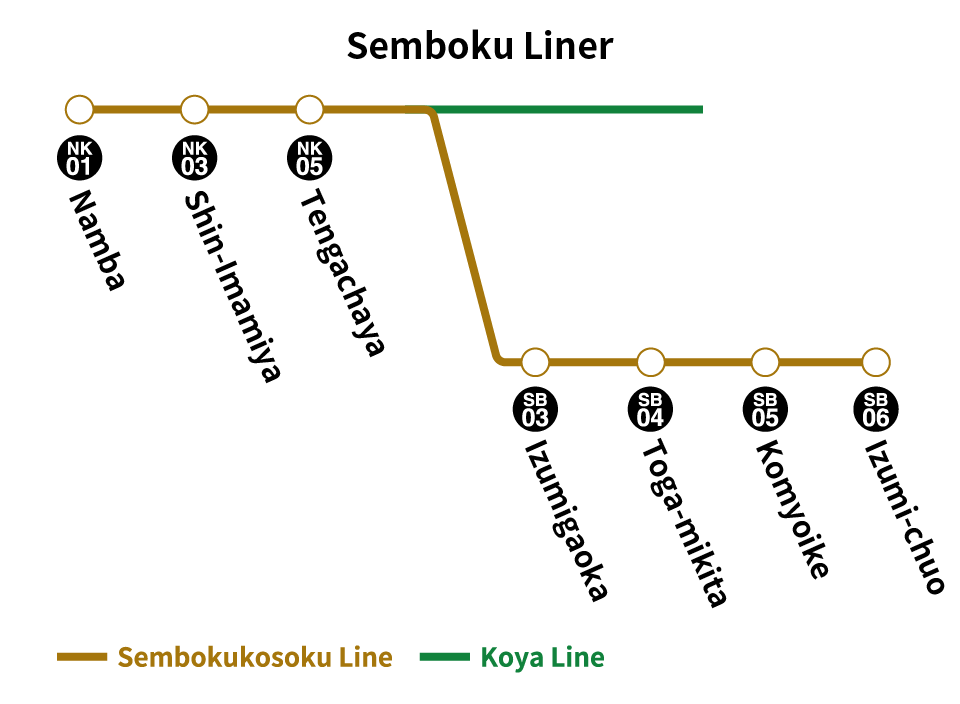 Price
| Zone | Adult Fee | Child Fee |
| --- | --- | --- |
| All areas | 520JPY | 260JPY |
Purchasing Limited Express tickets
Purchasing Online
Nankai Reservation for Limited Express
1.

Easy and convenient! Purchase with your smartphone!

2.

Assign a seat anytime, anywhere!

3.

Smooth boarding without tickets!
Purchasing at the Ticket Counter
You may purchace tickets at Namba Station, limited express ticket counters, pink ticket vending machines at major stations, limited express ticket vending machines installed on platforms, and major travel agencies nationwide.
*

Tickets will be on sale from one month ago.

*

If there are vacant seats on the day you wish to ride the Limited Express, you can also purchase limited express tickets from vending machines.
Semboku Liner 11000


Car 1

Car 2

Car 3

Car 4

Semboku Liner 12000


Car 1

Car 2

Car 3

Car 4

Semboku Liner 50000


Car 1

Car 2

Car 3

Car 4

Car 5

Car 6